A year to remember: 2022 at CKEditor in a nutshell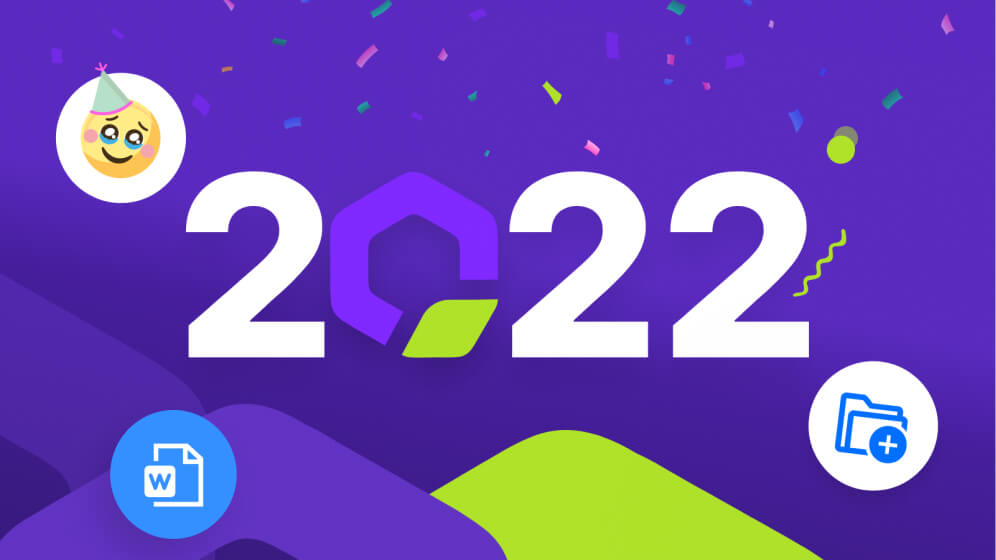 Oh, what a year!
It's really hard to enumerate all the endeavors we took on and all the milestones we have achieved in 2022. But, as the time for summaries has come, let's have a quick recap of what occurred last year at CKSource, the company behind CKEditor 5 and CKBox. It was a truly groundbreaking, and game-changing year for us.
Here's what happened, in a nutshell.
# New features and products
In 2022, we kept conquering the world of WYSIWYG editing - with outstanding products launched and excellent features introduced. There were 28 releases in total, embracing both CKEditor 4 and CKEditor 5. One of the major changes made was enabling Revision History with Real-time Collaboration in CKEditor 5 - which meant two killer features, user favorites, and selling points, coming together with a bang.
On top of that, the emphasis was put on solving accessibility issues and raising accessibility awareness - and one of the ways of doing this was publishing an insightful blog post on the Global Accessibility Awareness Day. There was also plenty of less-apparent developer work done behind the scenes aimed at bringing in even more inclusive editing solutions to encompass all our users' needs.
# CKBox: a star is born
2022 was also the year when our long-awaited file management platform - CKBox - went live. This cutting-edge commercial solution has made uploading images and documents, as well as categorizing them into different groups, smooth and easy. Using CKBox, which is compatible with all sorts of setups and software platforms, simply means no more issues finding the right files - be it either images or documents - for any task.
CKBox comes with a clean, beautiful user interface and superb UX, offering responsive images and support for over 40 languages. Things like changing the image thumbnail size or the number of files that are being displayed within the navigation are possible, too. An extended search and tagging system contributes to the platform's speed and efficiency. Using this central file manager saves companies a lot of time and other resources, especially with the SaaS subscription; an on-premise option is also available, though.
CKBox is constantly being improved and enhanced - features such as file preview, file tagging, as well as basic and advanced search, have been added since the initial release. The latter helps you to filter your assets by many search criteria - categories, tags, extensions, upload date, or even modification date! Other great improvements are on their way - and super-cool support for folders that will help you organize your assets into folders (just like in your desktop file system!) is certainly one of them.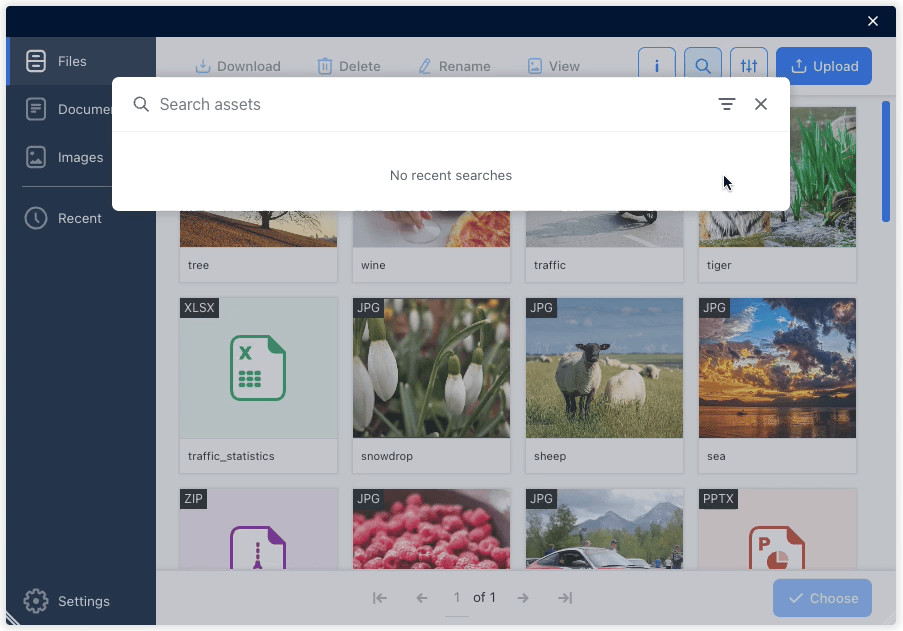 # Import from Word: a crucial achievement
In the year 2022, yet another important feature - Import from Word - was enabled. This modern converter service saw light after 12 months of polishing the project and running 1515 unit and integration tests, resulting in 100% code coverage. Available as a premium plugin, fully compatible with CKEditor 5, Import from Word lets users quickly import any number of Word documents to the editor.
The possibility of converting many DOCX or DOTX documents into HTML, and editing them later with the editor, is fully unique and impossible to find in any other rich text editing solution in the market. Not only does CKSource's converter offer manual import right from within the editor, but it also has a Rest API that can be used for automation and batch conversion of documents!
With Import from Word, converting large documents lasts less than a second, and 99% of Word styling gets preserved. The bottom line is high-quality semantic HTML, that can be received even from not-so-perfect DOCX structure. The Import from Word functionality also supports Comments and Track Changes features with text suggestions, which makes it a truly cutting-edge solution focused on cross-platform compatibility and portability of the content.
# Inspiring events and more opportunities to meet you
In 2022, CKSource's calendar was filled with exciting events and great opportunities to meet our current and future clients as well as fellow SaaS leaders. You could reach us in many locations in the US, Canada, and Europe. Some major events that we attended in 2022 were tech conferences and exhibitions that brought together the tech industry community.
These included: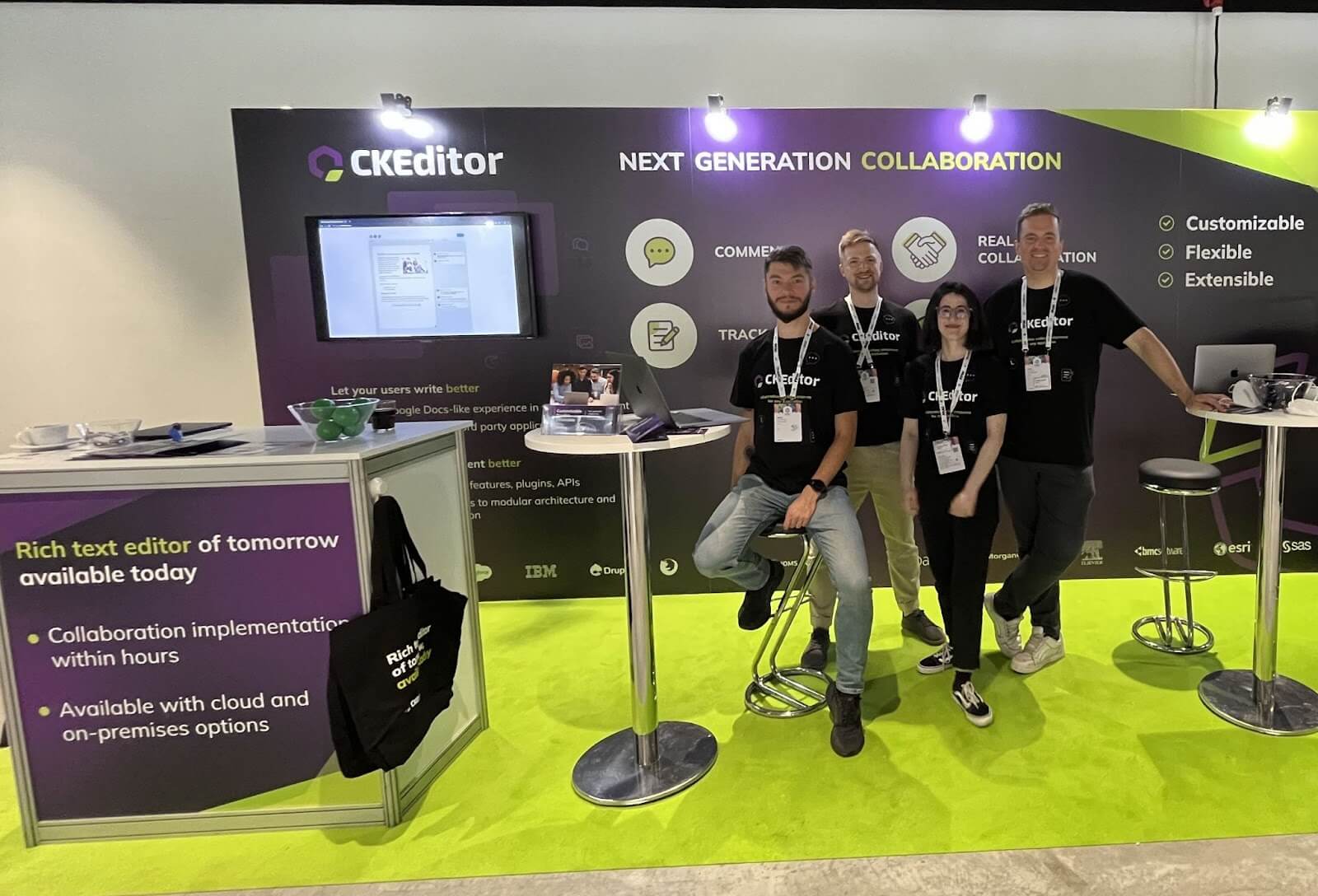 It was great to see you in person in so many places and spaces - networking, knowledge sharing, and interacting with brilliant innovators and end-users from across the globe. Such meetings always serve as a great inspiration and a confirmation that what we deliver are great products!
# Drupal partnership tightened
In the past year, CKSource was very visible at various Drupal events for a reason - the cooperation between the two companies, dating back to 2011, got even tighter in 2022. In December 2022, CKEditor 5 has officially become the default editor with the release of Drupal 10. This way, the intense two-year-long project to make CKEditor 5 "a key initiative planned for the Drupal 10 release" was brought to a happy ending and the CKEditor 5 premium features module is now also available in Drupal 10.
But what exactly does this mean for Drupal platform users? Some of the enhancements introduced with the Drupal 10 release covered an improved UX and a lighter UI, with a more modern design and a refreshed look. Other included media widgets with a dedicated toolbar, links with a balloon panel attached, tables with a dedicated dropdown, and the styles dropdown revamped - all that for a better, faster, and more efficient editing experience. Importantly, the CKEditor 5 module used in Drupal projects can be further customized and integrated into any software project or web application!
# New branding and website design
In 2022, we put huge effort into redesigning the CKEditor logo and rebuilding the website so that its UI and UX are even better. The results turned out to be truly mind-blowing. Now, the branding is very consistent, clean, and clear in communicating CKEditor 5's high quality and its message to the world.
In brief, it better reflects CKSource's characteristics and our way of doing things - being innovative, active, and always going the extra mile to improve products and services offered to our clients. Apart from looking more modern, the new website works smoother, also on mobile devices, with browser-specific bugs eliminated.
# Further corporate growth
Last year, we kept on expanding fast and there were 38 additions to the CKSource team. By December, it reached 90 employees, out of which 58 were software developers.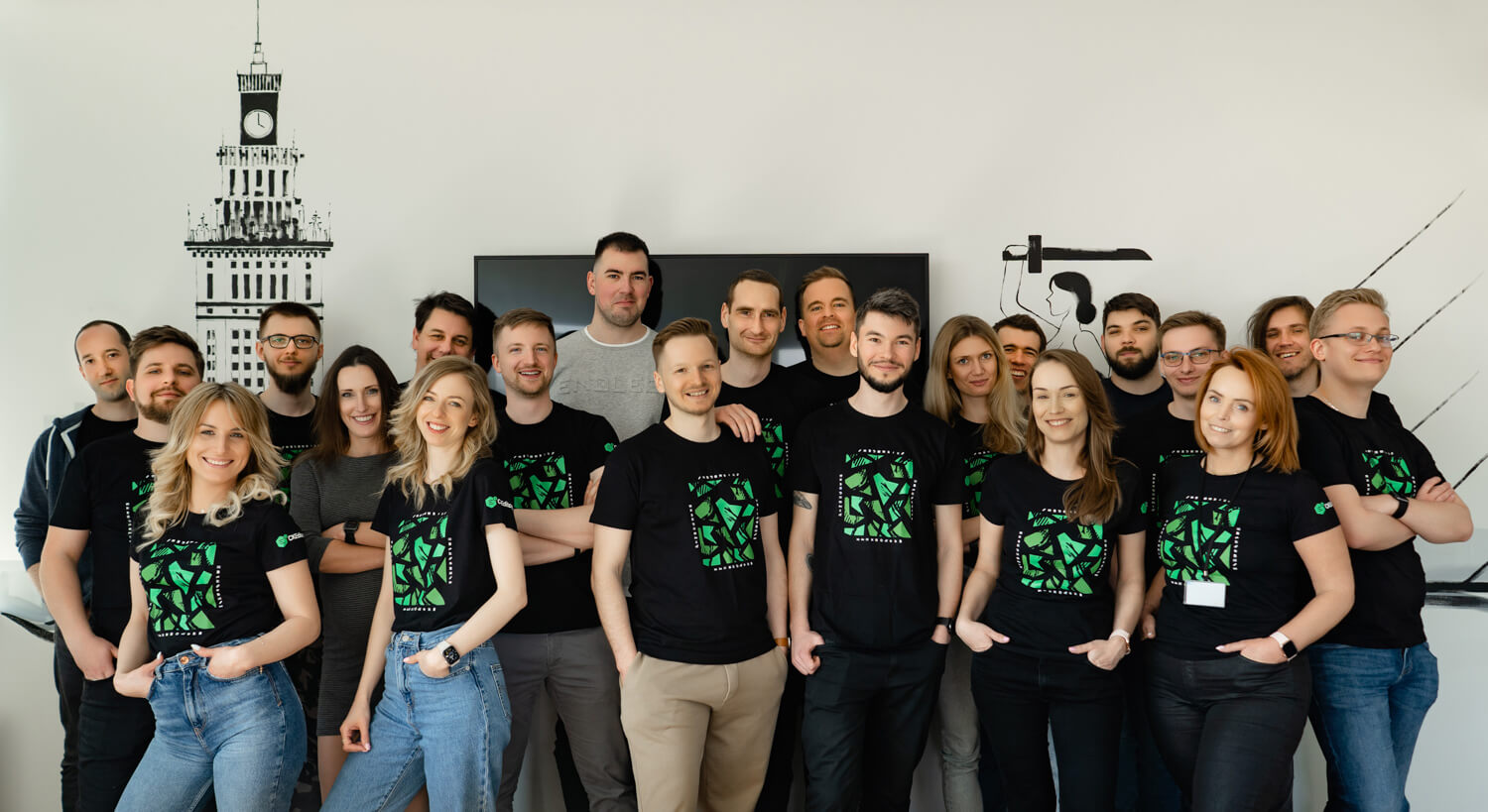 New hires can enjoy all the hallmarks of CKSource - a candidate-friendly recruitment process, rewarding feedback culture which gives employees the feeling of recognition and appreciation, best practices of remote work and no meeting madness, as well as many knowledge-sharing opportunities, trust-based relationships, and a lot of space and freedom in doing their work.
# CKSource - a Great Place to Work®
All that goodness CKSource offers and the excellent conditions it provides can be boiled down to one statement - it's simply a great place to work. And, in September 2022, it was officially confirmed as the company behind CKEditor 5 was given the Great Place to Work® certification. It's the most recognizable distinction for the "employer of choice" that companies worldwide aspire to, granted by the Great Place to Work® Institute - a global culture research and consulting company.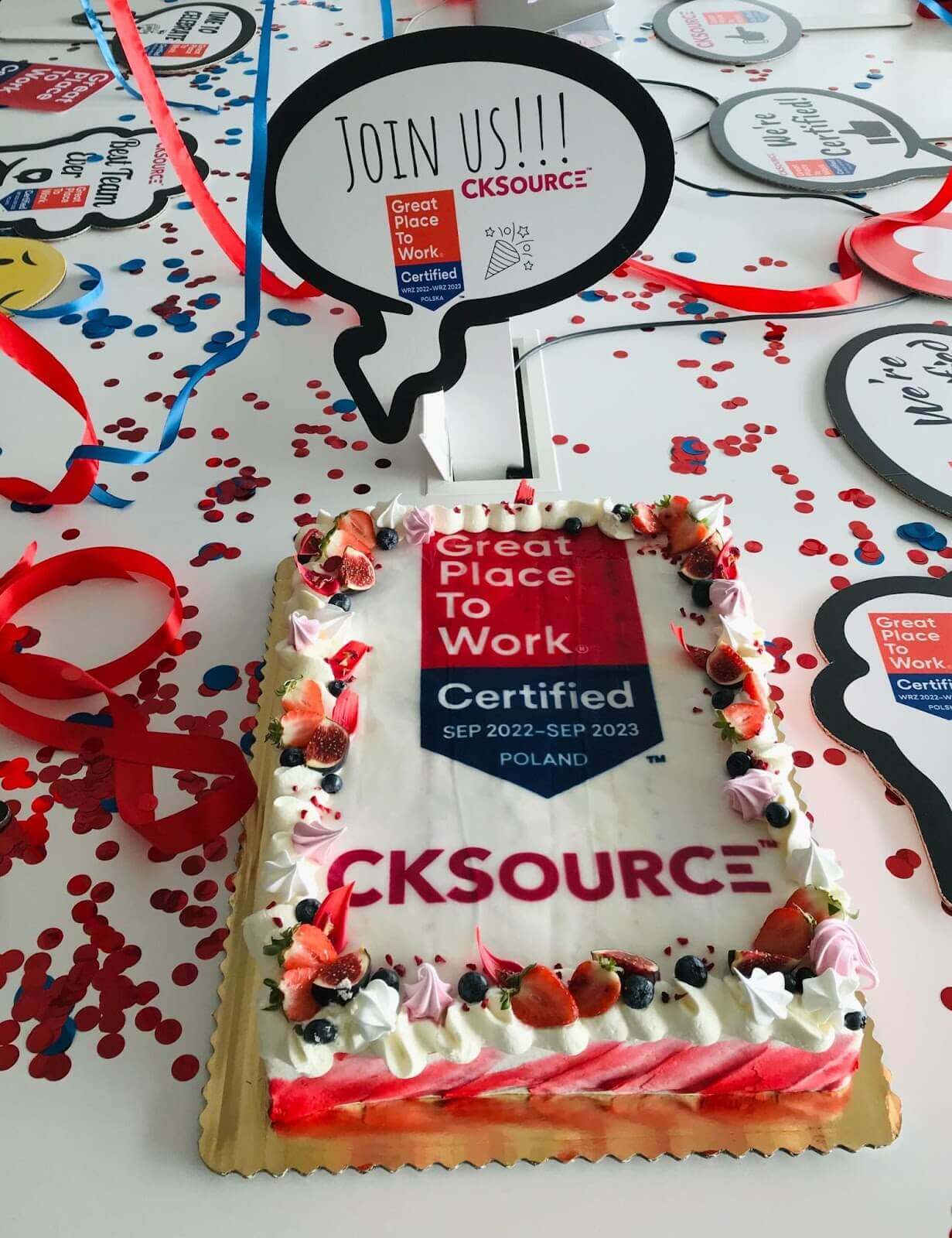 This title's uniqueness and huge value come from the fact that it's based entirely on what employees say about their experiences in the workplace.
And in the case of CKSource, they said that:
"This is a friendly place to work" (100% of employees)
"When you join the organisation, you are made to feel welcome" (100%)
"I am able to take time off from work when I think it's necessary" (100%)
"I am treated as a full member here regardless of my position" (98%)
"You can count on people to cooperate" (98%)
"Management is honest and ethical in its business practices" (98%)
"Promotions go to those who best deserve them" (97%)
"I want to work here for a long time" (94%)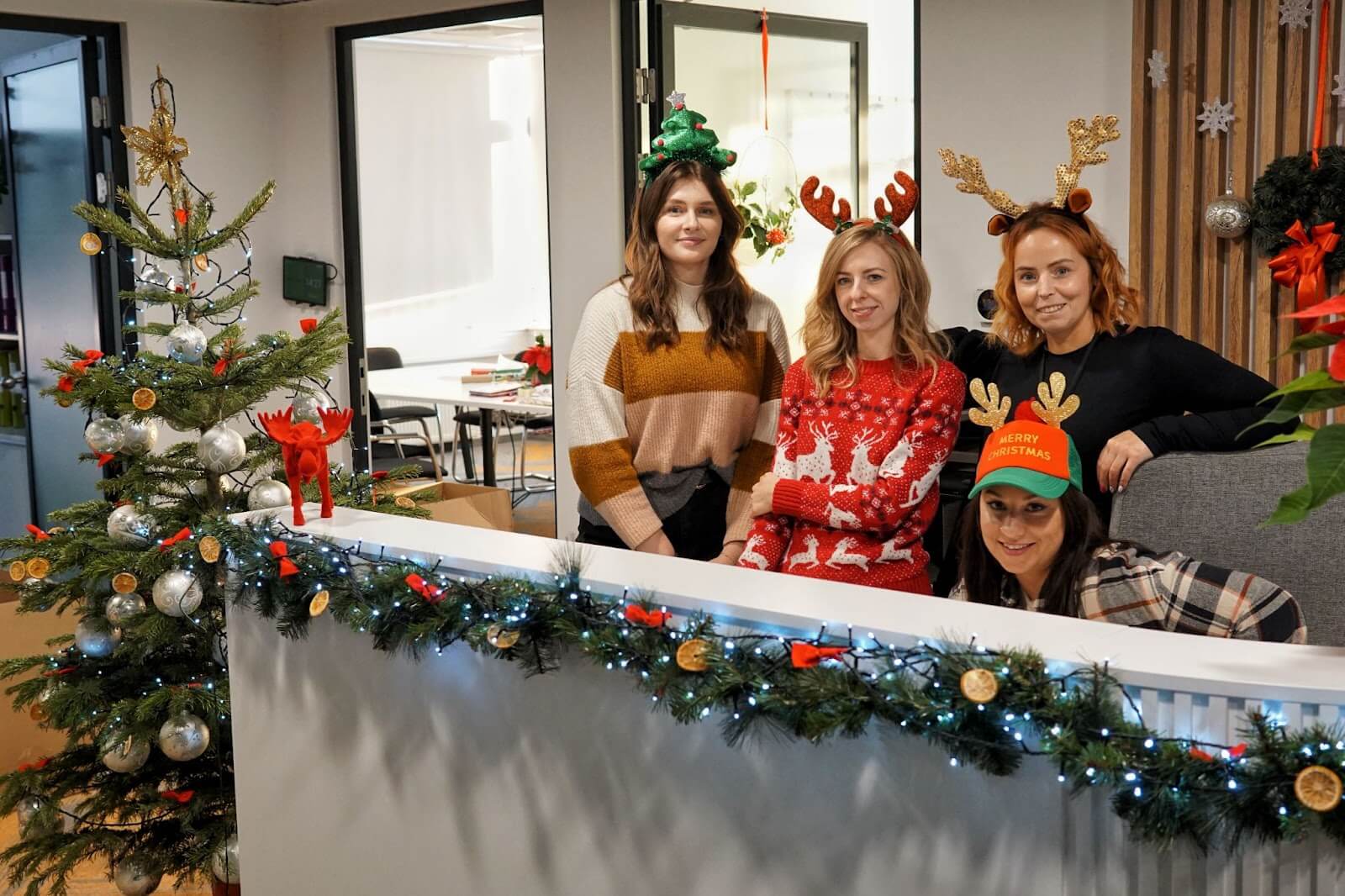 # Becoming part of the PSG family
Being in such a great condition, CKSource was acquired by PSG, in a bold move announced in May 2022. This leading growth equity firm worked in combination with Tiugo Technologies - a PSG portfolio company focused on assembling a collection of global, API-first developer platforms in the document and data management market.
This was just a brief wrap-up of what CKSource as a company lived and breathed throughout the year 2022. But if you like things even shorter, watch this:
What's in the cards for 2023? Well, you'll certainly hear a lot from us and about us. As for the New Year's resolutions, we promise to still be there and keep on rocking!