CKSource - a truly "Great Place to Work®"!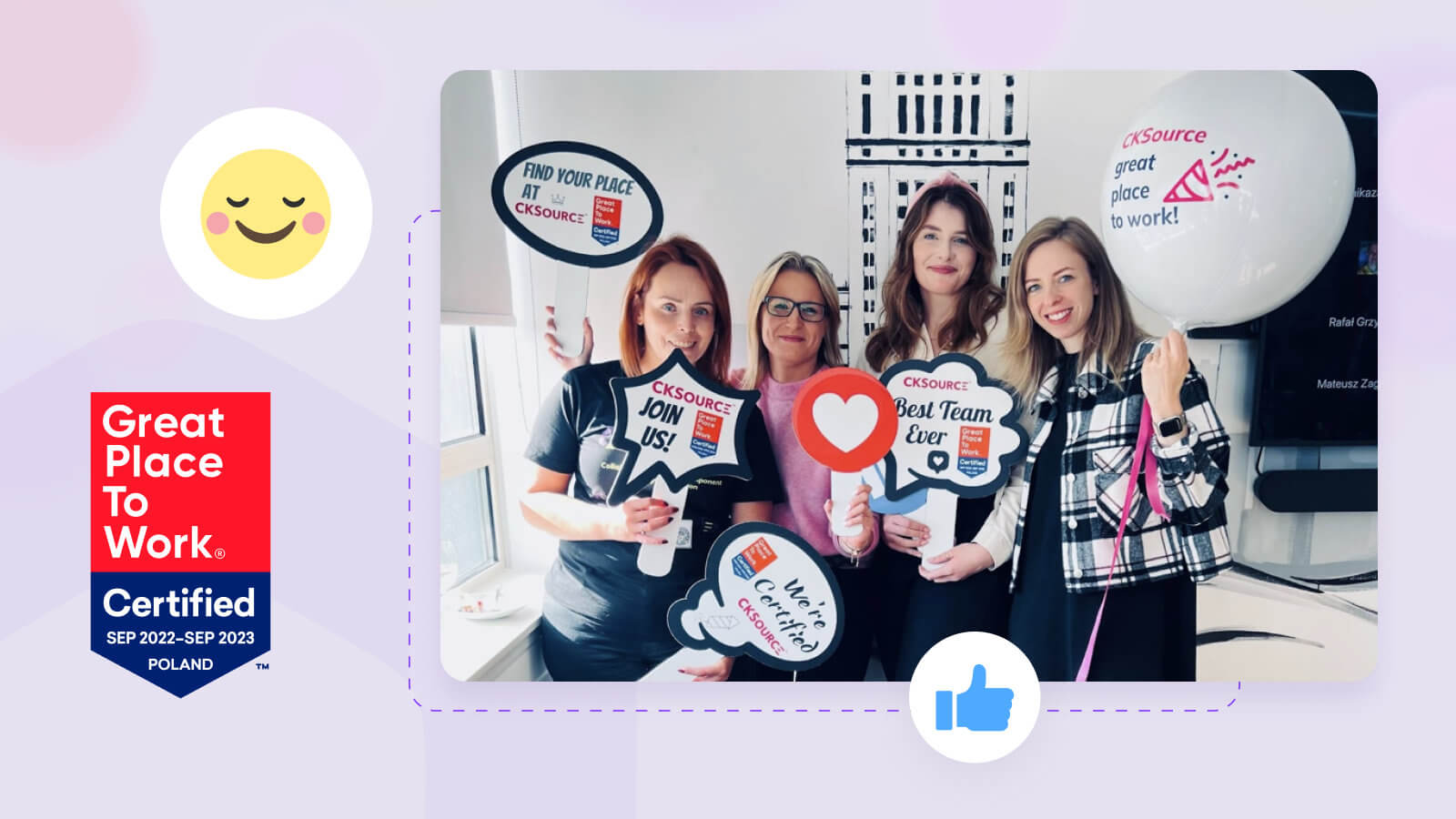 A lot has been said and written about CKSource's - the company's behind CKEditor - unique culture and about how cool this workplace is. It offers the best practices of remote work, a candidate-friendly recruitment process, and a rewarding feedback culture that gives employees the feeling of recognition and appreciation at work.
Also, a lot is going on here - in terms of the company achievements, inspiring events, knowledge-sharing opportunities, employer's and employees' initiatives, as well as the after-work socializing. There's a lot of space to spread your wings, feel free, and simply focus on work - in an environment and within working hours that suit you best. The meetings are not overwhelming, and the remote work is an option for almost all job positions.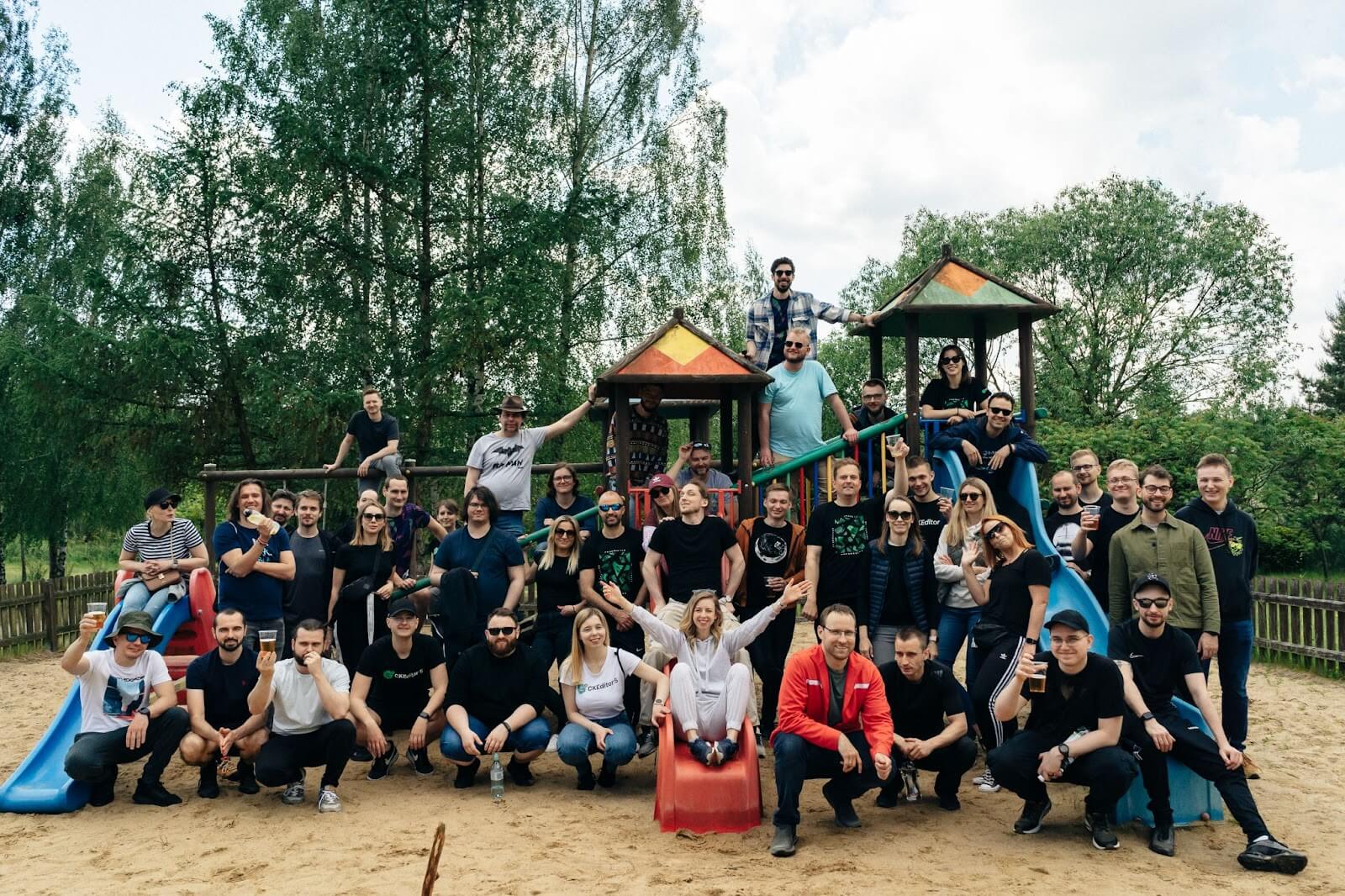 Undoubtedly, CKSource is a great place to kickstart your career in IT - and create superior software for a world-class WYSIWYG editor - with peace of mind assured, and other things, like work-life balance, competitive compensation, healthcare, or sports activities being taken care of by the employer.
All in all, it is a Great Place to Work. We are happy to announce that CKSource has been given the Great Place to Work® certificate!
# CKSource's greatness certified
All right, we are accustomed to being praised and appreciated both by our clients and employees. But it's always nice to earn some new accolades, especially ones of such significance and resulting from staff members' admiration and respect.
In September 2022, CKSource officially joined the exclusive group of organizations certified with the Great Place to Work® title. To achieve it, a company has to present outstanding results in some key metrics, with trust-based relationships topping the list. This distinction is granted by the Great Place to Work® Institute - a global culture research and consulting company that helps organizations across six continents create great workplaces.
It's good to know that the Great Place to Work® certification is the most recognizable distinction for the "employer of choice" that companies aspire to. This is the only award based entirely on what employees say about their experiences in the workplace. The certificate, recognized all over the world, serves as a global benchmark for identifying and appreciating unique employee experiences. Every year, over 10,000 companies in 60 countries apply for it. The award is something difficult to reach - but it wasn't so in the case of CKSource which achieved outstanding ratings in many categories.
# A 100 percent company
Now, let's shed some light on the detailed results of the survey as they show exactly how splendidly CKSource employees evaluate their company. A great example of this affection is that in the case of several questions, a staggering 100% rate was achieved. This concerned statements such as:
"This is a friendly place to work"
"When you join the organisation, you are made to feel welcome"
"I am able to take time off from work when I think it's necessary"
As you can see, at CKSource employees feel great from day one. They all confirm that both the recruitment process and the first days of work were nothing but positive and smooth experiences for them. And that the respect and trust they were given in the beginning span over the next months and years.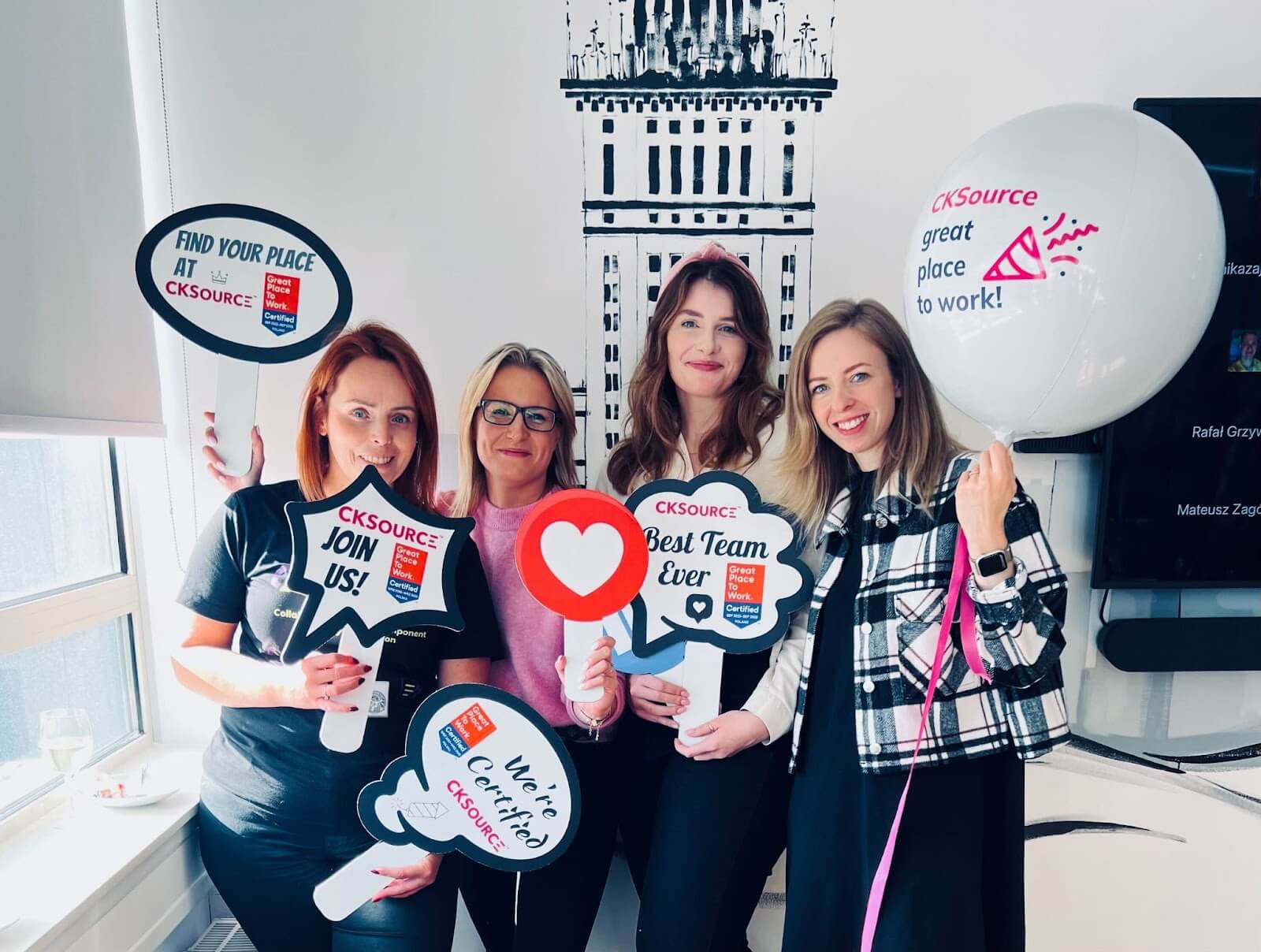 Also, as time goes by, the positive vibe that surrounds the company, its management, and its employees, is still there. One of its expressions is that people can start working at the time that suits them. If they need to go somewhere - they are free to do that, as well. Work-life balance is definitely not just an empty, meaningless phrase at CKSource. It is at the heart of the company's offerings.
# Very easy beginnings
"I am treated as a full member here regardless of my position" - as much as 98% of CKSource's employees agree wholeheartedly with that statement. And this feeling of being important for the company - noticed, supported, and heard - is something that accompanies them from the very beginning of the way, which means the recruitment and onboarding processes.
Now, let's give the floor to CKSource's employees who have a first-hand experience in this matter.
"Onboarding at CKSource is one of the many great memories I have from the beginning of my work in the company. During the first working day, I was greeted by virtually every employee, and I never felt lonely. I was given the right amount of time for onboarding and, in an orderly manner and at my own pace, took over responsibility for further issues. That made it impossible for me to say when the onboarding was over: it came very naturally and, by the time I knew it, I was already a stand-alone team member. In my opinion, this is how the perfect onboarding looks.", recalls Mikołaj Sawicki, Junior QA Engineer.
"The best memory I have from CKSource is definitely the recruitment process. The process which is usually associated with stress and tension was quite nice here. The HR girls immediately got on a first-name basis with me, I felt well-informed, and so cared for, at every stage of the talks. Being on the notice period with the previous employer, we were still in touch. It was nice to hear that they couldn't wait for me to join the Ops-support team." - says Marta Stryżko, Office Specialist.
"The first few days are full of new information to learn, but at CKSource no one is pushing you. There was enough time to familiarize yourself with each new topic. Everyone on the team was very willing to help, and the designated "buddy" was also great support for the new person." - admits Mateusz Pytel, Fullstack Developer & CKBox Team Leader.
# We're all in this together
CKEditor is a tool that is friendly to its users, and CKSource, a company that stands behind it, is very close to its employees, providing a great experience overall. Mutual trust, responsibility, and the feeling of togetherness created by a team of individuals are what makes working here so unique and fulfilling for all.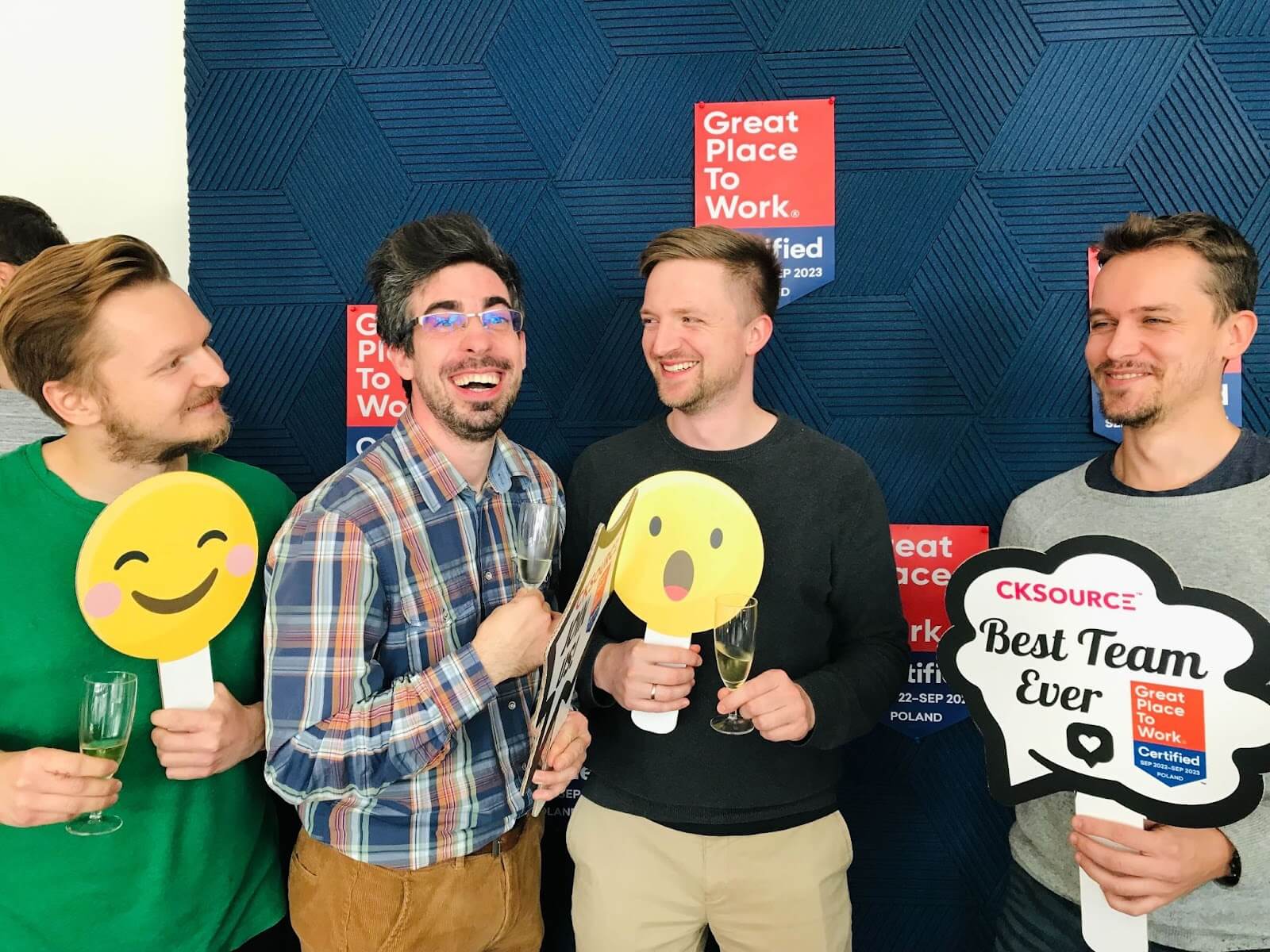 What CKSource's employees think about their company, is that:
"You can count on people to cooperate" (98%)
"Comfortable conditions are created here for people with parent or caretaking responsibilities" (98%)
"We're all in this together" (95%)
And here are some more employees' thoughts on that issue:
"Every company says that its workplace is based on trust and understanding, but at CKSource this is much more than a tired cliché. Here, all employees can safely share their thoughts and issues on every matter without feeling shamed or pressured. Each one of us is given great flexibility, sincere understanding, and genuine care. We are all equal team members and every opinion counts.", emphasizes Dmitro Szewczuk, Junior Software Engineer.
"The atmosphere at CKSource is awesome. Although we work hard, there is time for jokes and a coffee break to talk about non-work related topics. I would compare our atmosphere at work to a well-functioning relationship where two people are not only partners but also friends. They just like to spend time together and understand each other very well." - says Martyna Wierzbicka, Customer Support Coordinator.
"There is no negative energy here, no making judgments, no backbiting. I would call the atmosphere here professional and relaxed. People stay positive, seem happy, and do their jobs with a smile. I feel I belong here." - admits Marta Stryżko, Office Specialist.
# The art of great managing
Of course, this unique atmosphere has a lot to do with the management's approach to its leadership role. What CKSource's employees stated almost unanimously was that:
"Management is honest and ethical in its business practices" (98%)
"Management recognises honest mistakes as part of doing business" (97%)
"Management shows a sincere interest in me as a person, not just an employee" (97%)
"Managers avoid playing favourites" (92%)
The feeling of being treated fairly at work also has another dimension - with as many as 97% of employees stating that "Promotions go to those who best deserve them". But there's more to it regarding the appreciation for good work and extra effort.
"The public celebration of employees' successes and achievements deserves a big plus. It is not only about professional but also private achievements. My favorite moments of work in the company are our meet-ups and times where I have been publicly appreciated for my successes in the professional field." - Dominik Szczepaniak, Software Developer, admits.
According to Dmitro Szewczuk, the company's highlights are not only attention to detail, and uncompromised focus on producing great software, but battle-tested management, too. And this "management team is communicative, efficiently supervising and watching over our work" - emphasizes Hanna Dąbrowska, Junior Graphic Designer.
# People who fit in well here
All these pieces of a puzzle make "People look forward to coming to work here" (95%) and, eventually, stay for good. As many as 94% of CKSource's employees stated that "I want to work here for a long time". And some of them… can't even wait to start their job on Monday.
"In some workplaces, the only thing worse than Monday is Sunday evening when you start thinking about the following week at work. At CKSource, Sunday is still the weekend, and Monday is just an ordinary day of the week. High work culture and a friendly atmosphere are certainly the factors that facilitate getting up for work at 7.00 a.m. Yes, I get up for work at 7.00 a.m. because I want to and not because I have to." - emphasizes Adrian Suzdorf, Frontend Developer.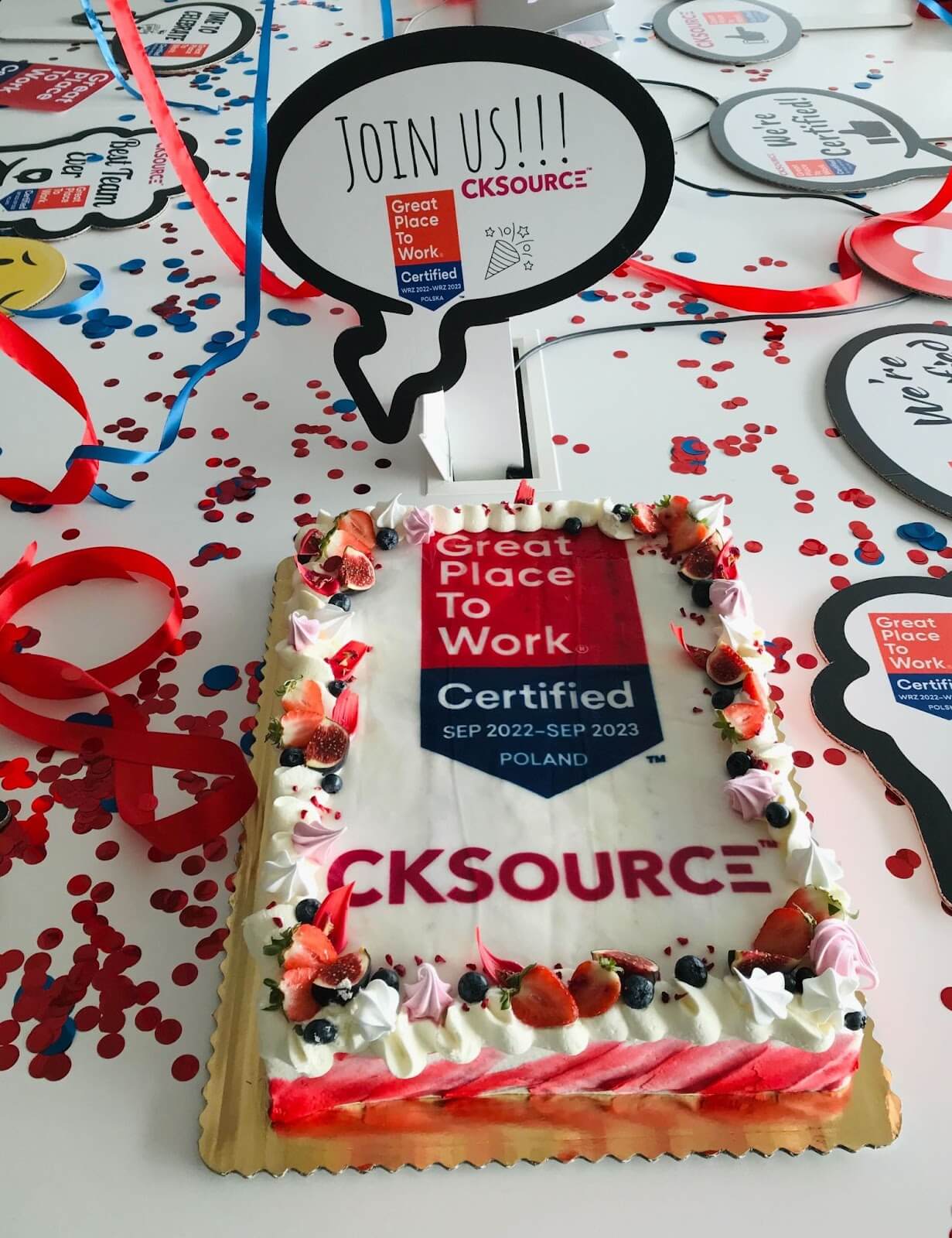 Ewelina Buczyńska, Head of HR & Administration and CKSource's long-term employee, highlights the importance of hiring such great people who craft added value together. As she puts it, "I've been working at CKSource for almost ten years. It is a unique place full of fantastic people who like to be and create amazing things together. That is the secret of our success - wonderful people who inspire development.". According to 95% of CKSource's employees, "Management hires people who fit in well here".
If you feel you could also belong here, find out more about the company and check out our current job openings now.