CKFinder 3.4.2 released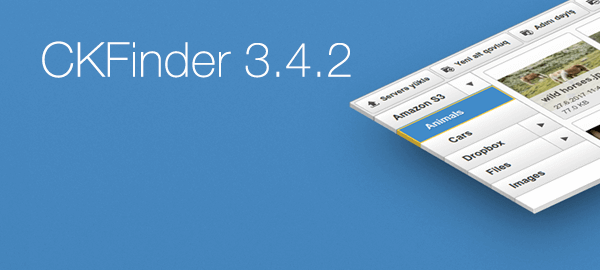 We are happy to announce that CKFinder 3.4.2 has been released on June 26, 2017 (PHP) and August 4, 2017 (ASP.NET). This version contains some important updates for remote storages (Amazon S3 and Dropbox) for the PHP connector, minor bug fixes for the ASP.NET connector and two new localizations: Azerbaijani and Uzbek. In addition to that, minimal PHP requirements were bumped, too. Read on for more information!
Amazon S3 backend update for the PHP connector
The AWS SDK used in CKFinder for PHP was updated to version 3. This affects Amazon S3 cloud storage and should bring plenty of improvements, including to performance. More details are available on Amazon Web Services blog!
Dropbox backend update for the PHP connector
Dropbox API was updated to version 2, as Dropbox is turning off the deprecated version 1 that was previously used in CKFinder 3 for PHP. If you wish to continue using your Dropbox storage, you need to upgrade to CKFinder 3.4.2.
PHP system requirements
CKFinder 3.4.2 requires PHP 5.6+ to work correctly. Additionally, Dropbox backend requires PHP 7.0+. The last version to support PHP 5.4 is CKFinder 3.4.1.
Localizations
CKFinder 3.4.2 includes two new localizations: Azerbaijani and Uzbek (Cyrillic and Latin versions). Vietnamese translation was updated, too. Many thanks to our translators!
Changelog
See the What's New? page for a full list of changes.
Download
Download CKFinder now! Also available as a Symfony Bundle.
Reporting Issues and Feature Requests
If you miss anything in CKFinder, have ideas on how CKFinder could be improved, or found a bug, please do not hesitate to report an issue in the CKFinder issue tracker. The tracker is public, so not only can you submit your ideas, but you can also browse existing issues and add your comments there.
Support
All CKFinder licenses come with a year of dedicated support straight from core CKFinder developers. You can also refer to StackOverflow for community support.