CKEditor Weekly for November 23, 2015
Here is your CKEditor weekly update. Find out more about our progress with upcoming releases of CKEditor 4 and the development of CKEditor 5. The big news in this update is that CKEditor has been included in the core of Drupal 8! Read on for more.
CKEditor in Review
CKEditor 4.5.5 has been released! We continue to work on 4.5.6 and 4.6 at the same time focusing our attention on CKEditor 5. Read on for more!
CKEditor 4
Last week we announced the release of CKEditor 4.5.5 This minor release includes some bug fixes and changes - read more about it in a dedicated release blog post. We continue to work on 4.5.6 which means testing the most recent releases of Web Spellchecker and Spell Check As You Type (SCAYT) and focusing on the Paste from Word enhancements.
CKEditor 5
We are currently battling on two major fronts - the basic application infrastructure and the data model.
The Infrastructure
After a lot of discussions we have rewritten the Collection class.
We have been working on a prototype of our MVC infrastructure. The outcome happened to be very fruitful and we finally came to a design we are now implementing. We also designed a nice syntax for binding models (it has already been implemented).
We converted our existing code in such a way that we use even more ES6 features. This work continues as we are finishing reasearch on how to use ES6 modules to enable a few things i.e. the ability to build a distribution for Node.JS. We also realised that this is the last moment when we can do bigger infrastructure changes, so we have redesigned our approach to plugins basing it on our past experience. We are happy with the outcome and we will be concluding the research and implementation this week.
We are working on development tools for CKEditor 5 which will ease managing all the existing repositories and scaffolding the new ones. We hope that this will speed up our daily work.
The Data Model
Our Tree Data Model was reviewed and merged into the master branch.
The transformations and deltas API is currently on review. We are working on converting the Tree Model to DOM and back which is the last piece of the puzzle.
We have worked on implementing and then porting code and tests for Operational Transformations to our Tree Model - the outcome was merged into the master branch.
At the same time we worked on extending ChangeOperation (so it is able to work with ranges spanning over multiple levels of a tree).
We are very close to finalizing all the fragments necessary to start coding something substantial like the first real features and UI. Keep your fingers crossed!
CKEditor in Drupal 8
We are really proud to share this great news with you - CKEditor was included in the core release of Drupal 8! We are very happy that the past few years of our involvement and cooperation with the Drupal community have been finalised with this substantial release. It looks like a beginning of a new fascinating journey and we are eager to see where it will take us.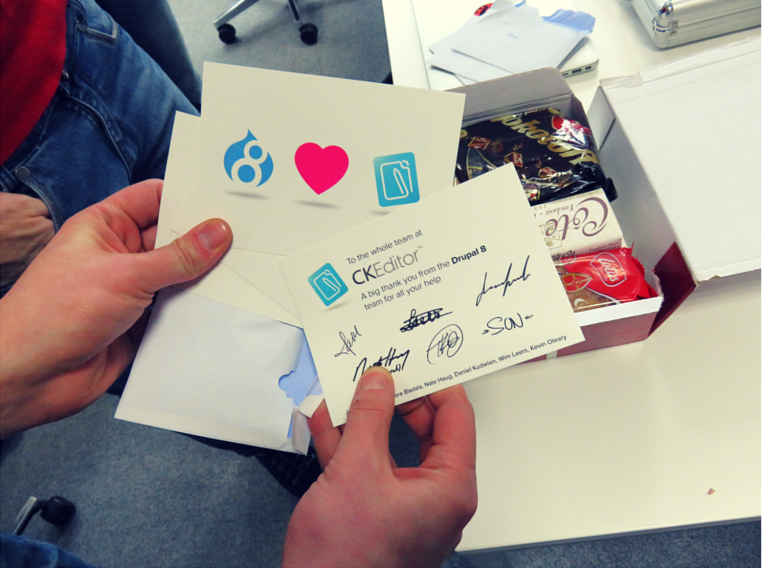 Other Projects
CKFinder
We are working on bringing a CKFinder 3.2 update which will include many UI related bug fixes and the highly anticipated list view for the files pane.
We are also working on the upcoming .NET connector for CKFinder 3 - for now we have most commands working with the events system and ACL management.
Around the Net
On CKEditor in Drupal 8:
CKEditor for Leonardo CMS was updated to version 1.0.0a5
The following new plugin was added to the CKEditor Add-ons Repository:
That sums up last couple of weeks. If you would like to be featured in one of our CKEditor Weeklies, or have an interesting tidbit that relates to CKEditor, leave a comment below or contact us.
Have a great week ahead!