How different industries make use of CKEditor. Part 1: Healthcare, banking, insurance, accounting & real estate sectors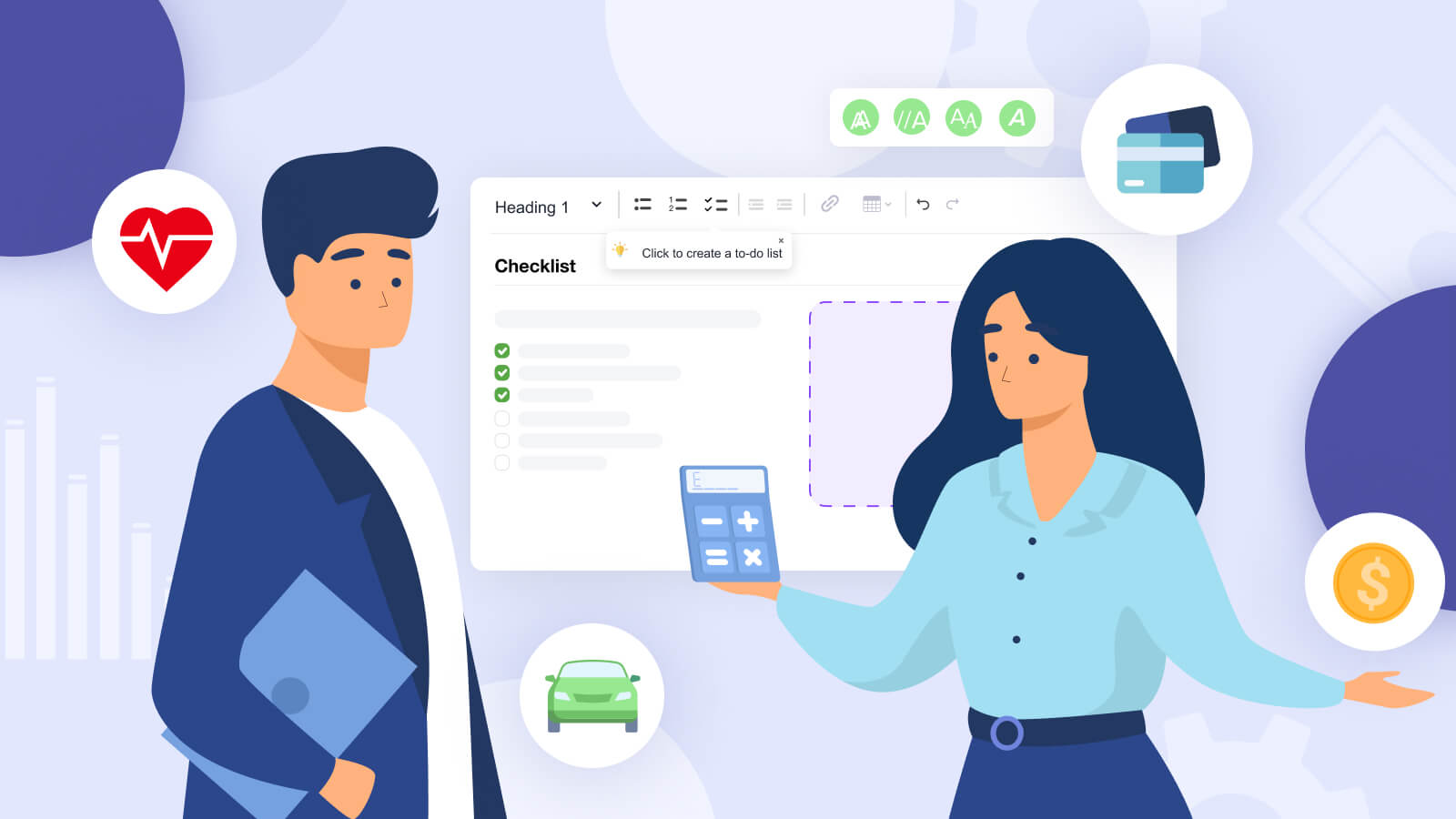 Fortune 500 companies already know it: the complete CKEditor solution, packed with stable, reliable components, can help any business to start with a bang or accelerate its growth immensely. It can truly be a game-changer for many companies - if they decide to make use of CKEditor at the right time. And this may mean both getting ready to kickstart the business (just like Testmo or Rocketlane did, and wanting to enhance the platform or tool that has already been developed – like Drupal, Mailchain, and thousands of others.
CKEditor runs in every - desktop or mobile - browser and can be embedded in and fit any type of software, including CRM, CMS, project management tools, e-learning solutions, customer communication, chat software, legal contract management, and digital publishing platforms.
With this blog post, we're starting a 3-part series of articles on the way and the scope of CKEditor's application in different industries and companies. How exactly do particular businesses make use of it? What kind of documents can be created or enhanced with it?
# CKEditor: huge possibilities for businesses
Sometimes, a particular edit is something groundbreaking, and no word can be lost. But, very often, high-quality documents - or any kind of content that businesses produce, need, or deal with - are made collaboratively, with a common effort. And here's where CKSource's collaborative solutions come into play, allowing users to stay within a single application for every cycle of content creation - writing, reviewing, and providing feedback.
Document collaboration - also known as document sharing or file collaboration - is one of the ways and areas where the indisputable advantages of collaborative editing can be seen. And CKEditor - the leader in delivering rich text editing software - is definitely the go-to solution in surprisingly many industries, providing added value to virtually all kinds of business documents.
Risk management reports within insurance companies, research papers in science, technical documents in automotive and other industries, procurement reports in manufacturing and retail, invoice management, and other accounting services, as well as audit trails in telecommunications, or clinical research are only some of the ways, and some of the practices CKEditor is being utilized in.
# Healthcare sector
Clinical trials within the process of discovering cures and medicines are one of the areas where good note-taking, as well as collaboration over documents, are simply fundamental. The collaborative effort and support are huge facilitators here, making finding treatment and medication - a trial-and-error process - easier and faster. When researchers collaborate on notes using the right tool, findings can be revealed quicker and results shared instantly.
What may save the day here, is a mixture of great features such as Real-time Collaboration, Track Changes, and Revision History. Having them onboard makes all the researchers, scientists, and doctors involved sure that they won't miss or lose any notes, thoughts, documents, or data.
But finding treatments and medicines is just one piece of a puzzle in the healthcare documents system creation. What can also be made with the help of a powerful rich text editor, are patient medical records, prescriptions, patient forms, diagnosis reports, consent forms, insurance approvals, payment confirmations, and more.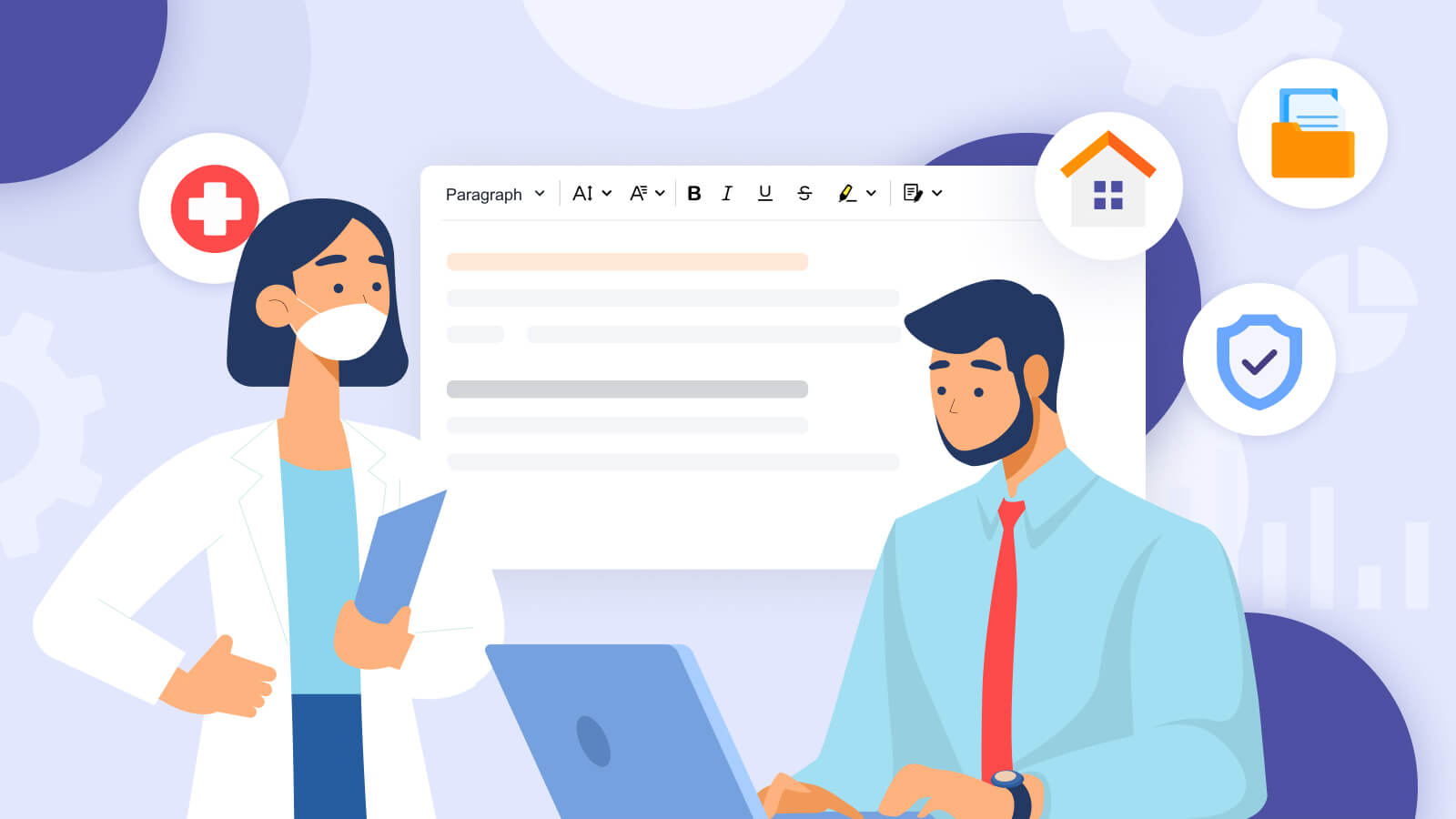 Among companies representing the healthcare industry that take advantage of CKEditors' awesome capabilities, we may find IDEXX. IDEXX is a user-friendly solution for medical note-taking during veterinary consultations. By using this intuitive tool, enhanced with CKEditor 4, vets can become more efficient and work faster. As CKEditor is used in so many places around the web (with the number of users exceeding hundreds of millions), they are simply familiar with how it works. This way, they can focus on taking care of pets quickly and effectively.
# Clinical research and audit trails
Clinical research and audit trails are areas where CKEditor turns out to be very useful. The possibility for researchers to collaborate on notes taken, as well as on data gathered for more insightful and quicker results is something priceless for the quality of their jobs - which is finding new medicines and effective cures. If they make use of CKEditor features such as Revision History they can be sure that no piece of information is lost with revisions down the line when other contributors save newer versions over older ones. Obviously, using the Revision History premium plugin also leaves no medical fraud - unauthorized alteration made to patient records or corrupt practices - unnoticed.
Pharmaceutical clinical research is only one of the areas where audit trails are in use. Other kinds of business processes where they can be utilized include stock market trading and banking - in instances when a documented flow of a transaction is needed. Verifying the accuracy of particular data, e.g. critical variables in clinical research, and tracking down errors in financial statements are some of the major use cases here. And tracking transactions through an accounting system (also in reverse - in order to reach the source document) is something vital for both external and internal auditors, lenders, etc. In many cases like this, tracking data alterations is possible with the CKEditor 5's Track Changes feature.
# Banking, insurance, accounting & real estate sectors
CKEditor 5 provides collaborative editing components for any software. It may enhance, for instance, an internal, company-wide CMS or an application that a business or an industry it is a part of uses commonly anyway. This may refer to the banking industry, which can use such a versatile WYSIWYG editor with Revision History and Track Changes features to make sure all the parties involved in, say, preparing a sustainability report, credit scoring, or a business loan granting process, are on the same page as far as the whole documentation and paperwork required are concerned. But this may also embrace the real estate industry and people working collaboratively on purchase contracts and revisions or amendments to them.
Apart from banking, insurance, and FinTech platforms, as well as risk management or credit scoring applications, accounting services providers belong to the group of beneficiaries of versatile, impressive possibilities that CKEditor offers. It enhances the invoice management process, including demanding invoice approvals, greatly.
CKEditor 5 can even be used to handle functions that invoice management software seldom offers - as only some of such solutions allow for invoices to be viewed and approved remotely. However, software scanning invoices or transferring payments electronically may simply not be enough, and, very often that's the human touch that may save the day as far as invoice management is concerned.
One of such vital areas that may require that is editing draft invoices, and checking them for correctness. It's worth knowing that modifying text fields for individual invoices, despite an invoice template existing, is common in this industry. And this practice may obviously be enhanced by a powerful, robust, world-class rich text editor like CKEditor 5.
If you, too, want to grow and explore new business opportunities with CKEditor, contact us now.