CKEditor 4: End of Life June 2023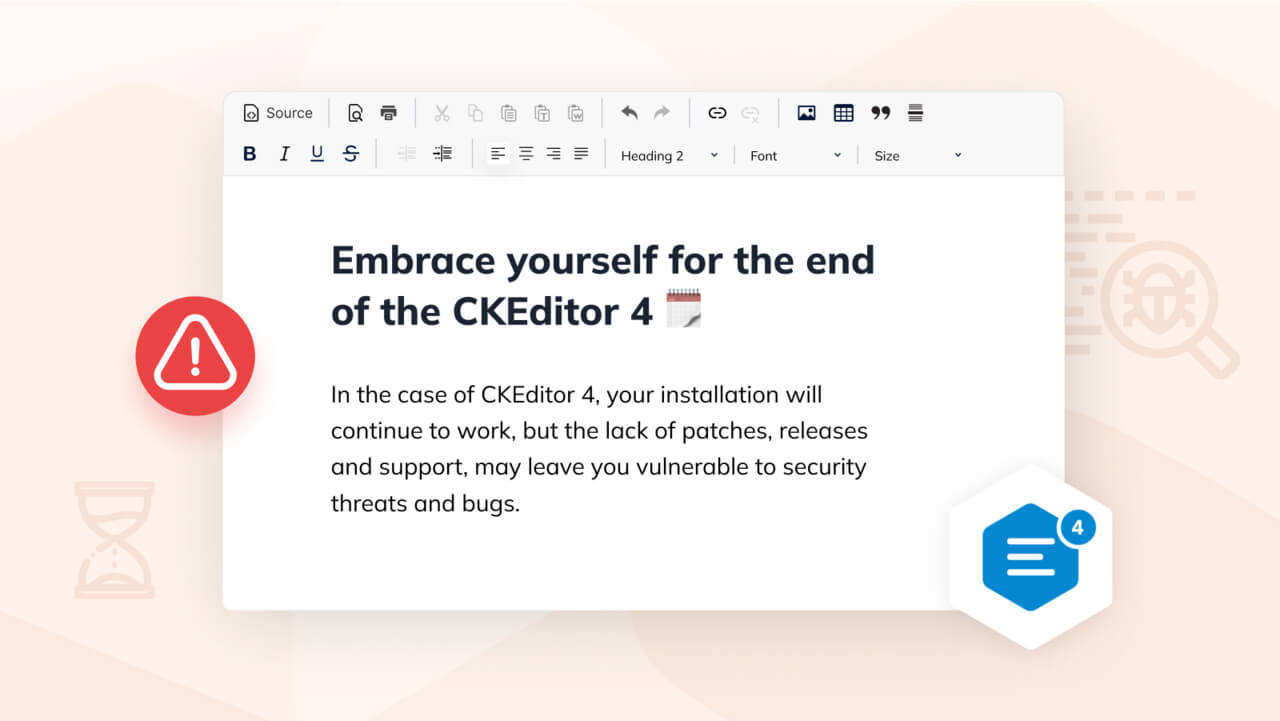 CKEditor 4 reaches its End of Life (EOL) in June 2023. From then onwards, it'll no longer be updated, have security patches and bug fixes, or new features. Given this, projects with CKEditor 4 implementations need to take action to ensure a secure and uninterrupted editing experience beyond its EOL.
Since its launch in November 2012, CKEditor 4 has served millions of users and transformed content creation processes. However, its end of life has come. No matter whether you're using CKEditor 4 with a commercial or Open Source license, this article explains the options now available to you:
Migration to CKEditor 5, or
Purchase the Extended Support Model (if you choose to continue using CKEditor 4).
But first, let's cover the fundamentals of this change.
# What is EOL and how does it affect your software?
The term end of life (common usage is EOL) is used to describe a technology product – software or hardware – that's reached the end of its product life cycle. This point is usually reached when the parent company/creator/manufacturer decides that it's outdated and users are better served by a replacement product.
Functionally, when a product reaches EOL users can continue to access the product, but it's not actively being maintained, no security patches are released and technical support is ended.
In the case of CKEditor 4, your installation will continue to work, but the lack of patches, releases and support, may leave you vulnerable to security threats and bugs.
# 4 possible risks or issues with using EOL software
There are numerous examples of EOL software that remained popular and widely used despite reaching EOL. However, there are a few risks that come with continued usage:
Data break or injection
Lack of new features
Inability to move to more modern infrastructure
Provision of customer service (to your users/clients) becomes difficult
Just because an EOL software keeps working, it doesn't mean you should continue to use it.
Updating to a new version may imply extra work to have full integration, but it's definitely less work than trying to salvage either your hacked data, lost customers, or unhappy users due to outdated features.
Below is a breakdown of each option you have moving forward, and the variables involved that may affect your final decision.
# CKEditor 4 end of life: your next steps
To maintain a secure and uninterrupted service, we recommend that all installations are migrated to CKEditor 5.
# Upgrade to CKEditor 5
Compared to its predecessor, CKEditor 5 offers a more modern user experience along with next-generation features like collaboration. There are eight key differences between CKEditor 4 and CKEditor 5:
(New) Editing engine
(Upgraded) Modern UI
(Upgraded) Powerful APIs
(Upgraded) Markdown output
(New) TypeScript
(New) Collaboration ready
(Upgraded) File conversion
(New) Premium features bundle with Slash commands
Depending on the type of license you're using, different courses of action are needed.
# Existing CKEditor 4 subscription users
If you have an active CKEditor 4 subscription on a monthly or yearly basis, you can migrate to CKEditor 5 at no additional cost or setup.
Please contact our support team to ensure a smooth migration process or to ask any questions you have regarding the migration.
# CKEditor 4 Open Source users
CKEditor 4 is available under GPL, LGPL, and MPL open Source licenses which allow you to implement it at no cost. However, CKEditor 5 is only available under GPL 2+ copyleft Open Source license.
Therefore commercial projects that use CKEditor 4 for free under an Open Source license are incompatible with GPL 2+ and need to purchase a commercial license to migrate to CKEditor 5.
You can contact our sales team to get a quote for the required commercial license.
If you would like to migrate to CKEditor 5 but your Open Source project is incompatible with a GPL 2+ license, you can still contact us for a free OS license.
# Legacy free plan users
For a limited time, CKEditor 4 was available for free for commercial projects with up to 2 developers and 5 users.
To be able to migrate to CKEditor 5, these projects also need to purchase a commercial CKEditor 5 license.
If you have any further questions about licensing you can also refer to the FAQs or contact us to discuss a suitable license for CKEditor 5.
# Extended Support Model
With any software product that's had an 11-year lifecycle, it's often difficult for every legacy project to migrate to the newer version in the optimal time frame. We understand that's likely the case for some of our CKEditor 4 users.
So for a limited time, CKSource is offering an Extended Support Model for CKEditor 4:
The Extended Support Model is an additional package that can be purchased both by commercial and Open Source license users. To learn more or purchase the Extended Support Model, please contact our sales team at your earliest convenience – it's only available for a limited time.