CKFinder 2.1 released!
We are proud to announce the latest major CKFinder release. CKFinder 2.1 brings some really exciting new features, like multiple file uploads and support for mobile devices. Please read below for more details.
Multiple File Uploads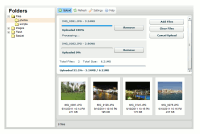 One of the most requested CKFinder features is now available — you no longer have to select individual files for upload and manually send them one by one! CKFinder 2.1 adds a dedicated Flash component that supports multiple file uploads.
If you want to upload a whole set of files to your server, point them to CKFinder and start the upload operation — our file browser will now do the rest for you! If you change your mind during the upload process, you can still cancel it as well as restart later. A progress bar will be displayed to you to show you the current upload status at any time.
Compatibility with Mobile Devices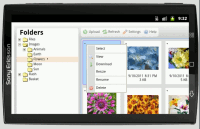 In everyday life as well as in modern business ventures everyone now uses the Internet on mobile devices such as smartphones or tablets. No matter what mobile environment you have (Android, iOS system like iPhone or iPad, other), it is crucial to be able to use the Internet applications as easily and efficiently as on a desktop computer. While working on CKFinder 2.1 we took this factor into account.
One of the problems that our users reported was the lack of support for using context menus on touch screen devices. We solved this issue by adding a dedicated UI component in a form of a downwards arrow that activates the context menu on touch. Another important addition was using the built-in system dialog windows to communicate with the user in order to improve the user experience. We also make it possible to scroll the contents in areas where native mobile browsers are still lacking this feature.
Because of the huge number of mobile devices in existence today, the dynamic growth of this market sector, as well as limited capabilities of some devices (like the lack of upload support for older iOS4 devices) we are fully aware that some further improvements might be needed for the future CKFinder version. We do, however, hope, that the initial support for the devices with Android 2.1 and later or iOS is a step in the right direction.
Other Improvements
config.uiColor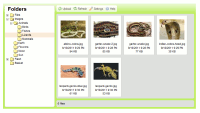 The config.uiColor setting that lets you change the user interface color and is well-known to all CKEditor users is now available in CKFinder. If you want to adjust the CKFinder appearance to your application without much hassle and seamlessly blend it into the user's interface of your application, you will now be able to do it.
config.useNativeIcons
Another addition that affects the CKFinder appearance is the config.useNativeIcons configuration setting. When it is set, the user will see the native system icons for file extensions instead of CKFinder ones. This feature is now available in Firefox only.
config.showContextMenuArrow
The downwards arrow (mentioned in the mobile devices section of the article) that can be used in order to activate the context menu in mobile browsers can also be turned on for all environments, including the desktop users.
If some of your users find using the right mouse click in order to open the context menu in a web application unnatural, showing the arrow icon might make it easier for them to use CKFinder.
Keyboard Shortcuts
The keyboard shortcuts make the interaction with CKFinder quicker and help users with disabilities who find it hard to navigate the application by using the mouse.
CKFinder 2.1 now supports a few keyboard shortcuts for operations such as upload, delete, or rename. Please refer to the updated documentation for more details.
New Translations and Documentation
Apart from major updates in 8 language versions (and minor updates in most other ones) we have now added 4 new CKFinder localizations: Estonian, Lithuanian, Persian, and Turkish. CKFinder User's Guide ("Help") was also completely rewritten and for a start, it is available in English and Polish. If you would like to update CKFinder translations or provide new ones, read the localization article and contact us!
Important Bug Fixes
CKFinder 2.1 is not only about new functionality, but it also contains a few important bug fixes. One of the crucial issues that is now fixed is incorrect rendering of the folders tree in Internet Explorer 9.
We also changed the way the thumbnails are rendered, so the users who store a considerable number of files in a single folder should see a huge difference in rendering time while the server load should diminish due to the reduced number of requests to download thumbnails. See the config.thumbnailDelay configuration setting for more information.
Changelog
Check out the What's New? page for the full list of changes.
Download
Support
Community support is available through our forums. Visit the support page for additional options.
Update for the Chinese Version in CKFinder 2.1
2011-09-22: Please note that we have recalled the CKFinder 2.1 installation package released on 2011-09-13 due to an issue with multiple file upload not working in the Simplified Chinese language version. The problem was rectified immediately and the updated package, free from this issue, can now be downloaded from the Download section of the CKFinder site.