6 Million Downloads!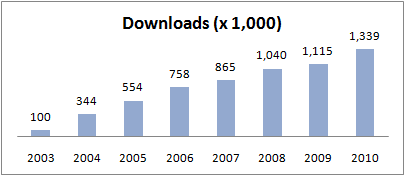 Amazing numbers are coming out of our 2010 summary. Our company is growing fast , which simply reflects the success of our projects. Among the ways to measure this success one important factor deserves a special mention: the number of direct downloads.
Dear friends, I am happy to announce that we have just reached an extraordinary result: 6,000,000 downloads of our WYSIWYG editor.
In 2010 only we had over 1,300,000 downloads. This result is truly impressive!
CKEditor 3: First Million!
Another milestone that we are proud to announce is reaching 1,000,000 downloads for CKEditor 3. This happened only one year and four months after its first public release.
Previous Achievements
The following are the previous announcements for some of our downloads milestones:
This means that since August 2008, in a bit more than two years, we were able to double our downloads mark.
What Is Counted?
The statistics given above take into account direct downloads of FCKeditor and CKEditor. By "direct" we mean CKEditor distribution files downloaded from our servers only. This means that there are thousands, or even millions, of developers who chose to include CKEditor in their websites and products. What is even more exciting, is that at the same time we are talking about millions of satisfied users who make use of various CKEditor implementations.
Apart from this, CKEditor has been integrated into several successful open source projects, like Drupal, Joomla, and WordPress. It is also being included in several commercial products created by thousands of companies, including IBM, Oracle, and Yahoo.
These results clearly show that CKEditor really is the most popular browser-based editor in the world.
Our entire team would like to pass a big THANK YOU to our community. We have reached these numbers thanks to you. It is for you that we are here.