With

Paste from Office Enhanced

Productivity Pack
Productivity Pack: Minutes Saved by the User
Fictional Data.

Export this Sample Doc here
Productivity Pack Features
Minutes Saved
Document Outline

1237

Table of Contents

1237

Format Painter

1162

Templates

1225

Slash Commands

1247

Paste from Office Enhanced

1350

Total
7458
Without Paste from Office Enhanced
Productivity Pack
Productivity Pack: Minutes Saved by the User

Fictional Data.

Export this Sample Doc here
Productivity Pack Features
Minutes Saved

Document Outline
1237
Table of Contents
1237
Format Painter
1162
Templates
1225
Slash Commands
1247
Paste from Office Enhanced
1350
Total
7458
Note
Test the Paste from Office Enhanced feature along with all the other Productivity Pack plugins, in the Productivity Pack demo.
This is just an example implementation with a small subset of available CKEditor features. The way the editor looks and which features are enabled – it's all up to you.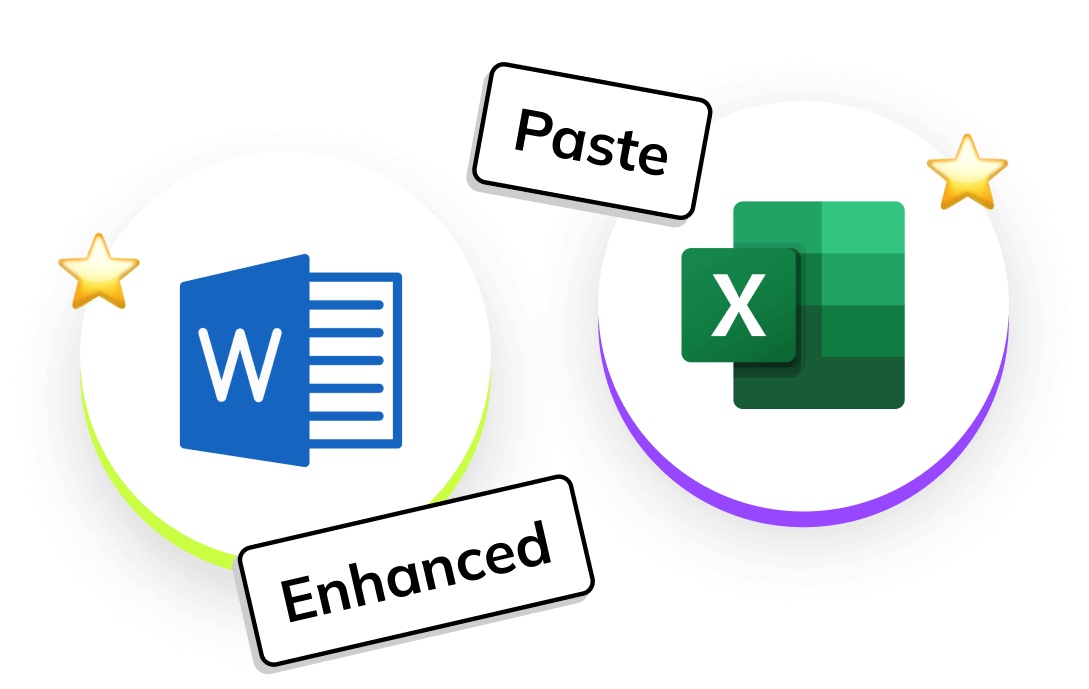 Do more with Paste from Office Enhanced
Error-free copy-pasting saves time and formatting headaches
Clean HTML
Automatic detection, cleaning and transformation of MS Office background structure and formatting, to deliver error-free HTML
Increased productivity
Clean copy-pasting from MS Word and Excel means less time wasted on fixing formatting errors, and more time creating content
Less support tickets
Error-free pasting from Word and Excel means more satisfied users, fewer support requests and cleaner HTML.
Frequently asked questions
Paste from Office Enhanced is one of the features in the Productivity Pack, which comes included with a CKEditor commercial subscription.
If you already have the Productivity Pack enabled, then all you need to do is update your CKEditor license key. You can find the updated license key in your CKEditor Ecosystem dashboard.
The Productivity Pack of Premium plugins is available exclusively with a CKEditor commercial license. It is not available to purchase (either in whole or part) separately.
If you want to integrate any of the features included in the Productivity Pack, please contact our Sales team for a custom commercial license.
The two legal benefits of a commercial license are:
You are not required to share your source code with the public in any way.
You can whitelabel CKEditor builds after embedding them in your product or application.
Other benefits:
Technical support packages tailored to your needs and budget.
Exclusive access to the Productivity Pack of essential Premium features: Table of Contents, Document Outline, Format Painter, Slash Commands, Templates, and Paste from Office Enhanced.
Ability to pick and purchase any other individual Premium features: Real-time Collaboration, Comments, Track Changes, Revision History, Export to PDF, Export to Word, Import from Word, Pagination, CKBox, CKFinder, Spell and Grammar Check and MathType.
If you have an existing CKEditor commercial license, please contact your Account Manager to check your eligibility for the Productivity Pack.