CKBox - overview
CKBox is a modern SaaS file management platform with a clean interface, responsive images, and top-notch UX. If you are part of an organization with many different files to manage, such as images or documents, and regularly have issues finding the right files for the task at hand, CKBox is the right solution.
With the CKBox platform, users can upload files and categorize them into different groups. They can also change the way the files are organized as various interface modification options exist — like changing the image thumbnail sizes or changing how many files are displayed within the navigation that users can view. Files can be uploaded, deleted, and renamed. File properties like dimensions, upload date or size are also easily accessible and can be used to sort the files view.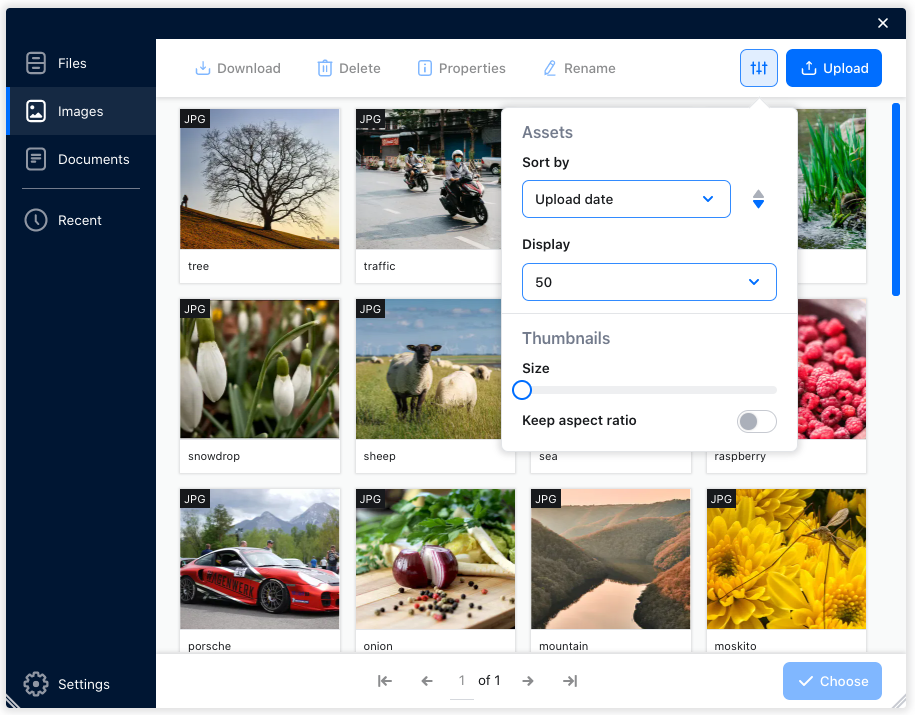 CKBox is a service that runs in the cloud (also available as on-premises) and there is a client-side plugin to operate it from within CKEditor 5.
You can read more about it and see the demo on the CKBox product page.
# CKBox for CKEditor 5
The CKBox plugin is included in all CKEditor 5 builds. No special steps are required to use it, apart from configuring the CKEditor Cloud Services access.
Refer to the CKBox feature guide for more information about using and configuring Easy Image in CKEditor 5 WYSIWYG editor.