Documentation Update
You Asked – We Listened
We've been hearing some comments regarding deficiencies in the documentation of CKSource products. We are happy to announce that we have just made a step in what we feel is the right direction, so let me introduce myself and share some news regarding our documentation.
Hello, World
My name is Anna, and I am the new Documentation Manager at CKSource. From now on I will be working full time on creating and maintaining the documentation of CKSource products, including the über-popular CKEditor. CKSource is truly committed to supporting our users as much as we can and we want to assure you that quality documentation for our products is our top priority at the moment.
CKSource Documentation Site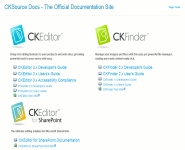 Most of you probably know it already, but for those that don't, the official CKSource documentation site is located at https://docs-old.ckeditor.com/. Once there, find the product that you'd like to know more about, and choose the documentation type. All our products have separate documentation for users and developers, with the former aimed at end users and the latter – at developers who embed and integrate our products with their own solutions.
CKEditor 3.x User's Guide Premiere
We started the huge documentation revamp project with the CKEditor 3.x User's Guide. The User's Guide is written with end users in mind and describes all features of CKEditor that are available in the most current release of the 3.x branch. It explains both basic stuff, such as characteristics of the editor interface or navigation therein, as well as more complex areas, like spell checking or inserting and styling rich text content.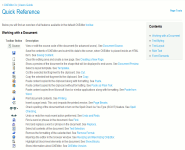 Since we pay special attention to accessibility of our products, we now have a full Accessibility Guide describing all keyboard shortcuts that make working with CKEditor quick and easy also for users with disabilities. There is even a handy Quick Reference page that lists all CKEditor functions and points you to detailed explanations of their usage. And, as the saying goes, a picture is worth a thousand words, all articles were supplemented with a large number of screenshots presenting various parts of the editor's interface as well as visual examples that show you how to use them in practice.
The CKEditor 3.x User's Guide will be maintained at our official CKSource documentation site and this is where you will always find its most recent edition, updated to cover the latest release of CKEditor. We also plan to add a link to the User's Guide to the About CKEditor dialog window that opens when you click the

toolbar button.
Coming Up Next...
CKEditor 3.x User's Guide is just the first step of the documentation rewrite project. In order to ensure that we have clear and consistent documentation for all our products, our next priority is to focus on the documents whose purpose is to support the developers in the process of installing, embedding, and extending CKEditor.
Feedback is Needed!
A good product speaks for itself. However, once it grows, with new features and customization options available, it becomes more and more important for the user to be able to quickly get to the information that is needed while using it. We want you to understand our products and we want to assist you in becoming proficient in their usage.
This is just the beginning of the road. Tell us about your needs, check out the brand new User's Guide, and let us know what you think. We are looking forward to your feedback and will be thankful for any suggestions you may have. To send us a message, please use the contact form from our website. And stay tuned for more as there is lots to come in the nearest future!