CKEditor Weekly for June 22, 2015
Here is another CKEditor weekly update. We are still working on our CKEditor and CKFinder major releases. Last week we have also celebrated 15 million downloads of CKEditor! Read on for more.
CKEditor in Review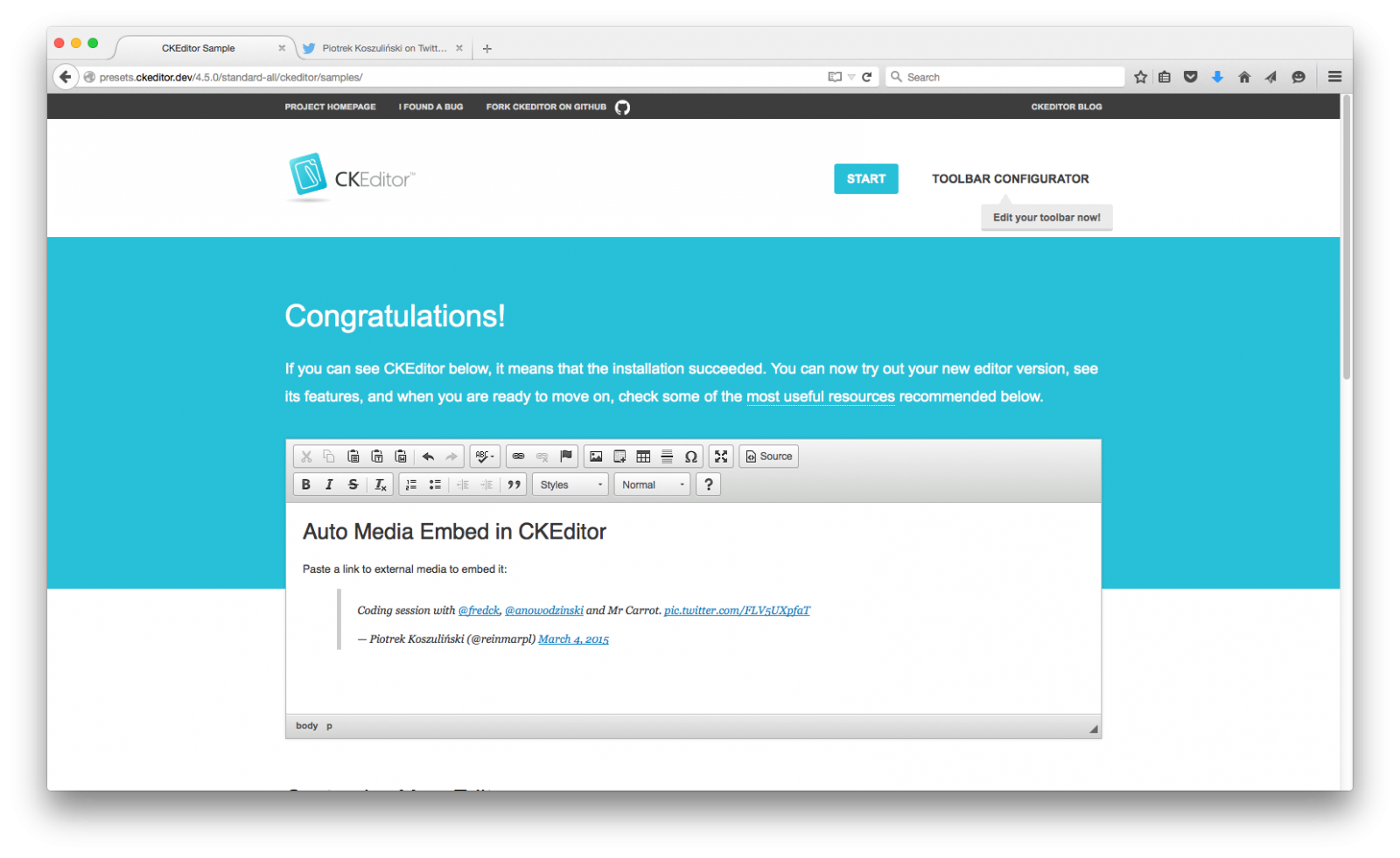 CKEditor team is working hard towards an upcoming release of 4.4.8 and 4.5, finalising the features, fixing the issues, improving stability of the editor and testing. We are doing our best to have both versions released by the end of this week, so keep your fingers crossed!
We are also thrilled to announce that version 4.5 will come with the Auto Media Embed plugin, an extension to speed up the process of extending editor contents with external media. The plugin converts links to media into embeddable content on the fly. See the video to learn more.
Friday last week we have celebrated 15,000,000 of CKEditor downloads. Thank you for being a part of this journey!
Other Projects
CKFinder 3
The final release of CKFinder 3 is really close - we are completing the testing phase. Last week we were able to:
Fix issues related to trying to perform an operation on a file/folder that no longer exists.
Fix some edge cases during file uploads.
Fix issues with CKFinder not being able to work with disabled thumbnails support.
Further improve the keyboard navigation, including making the "More" dropdown menu keyboard accessible and making it possible to deselect a file using space.
Create a documentation article about using requests in CKFinder and related ImageInfo plugin.
Update translations: Czech, Brazilian Portuguese, Esperanto, Estonian, French, German, Polish, Serbian.
Around the Net
That sums up the last week. If you would like to be featured in one of our CKEditor Weeklies, or have an interesting tidbit that relates to CKEditor, leave a comment below or contact us.
Enjoy the upcoming week!